US Conveys Concerns to Cuba Over Chinese Spy Station
The United States believes that Cuba is hosting a Chinese spy station and has expressed its concerns to Havana on the matter, said National Security Council spokesman John Kirby in a press conference on Monday.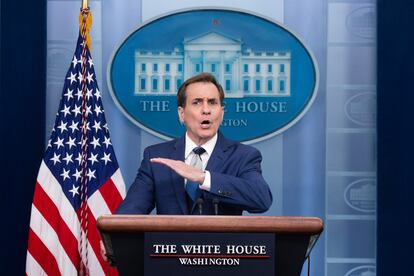 Previously, the Wall Street Journal had published an article stating that a new base had been agreed between Havana and Beijing from which to intercept American communications, but Kirby declared it inaccurate. Nevertheless, according to declassified information presented by the White House on Saturday, China has maintained a spy station on the Caribbean island since at least 2019. The information did not specify the size or functions of the supposed station.
China and the Cuban government have both denied the existence of a station. Chinese Commerce Minister Wang Wentao's recent visit to the United States and officials traveling to China have been seen as tentative steps to ease their relationship. The US Secretary of State Antony Blinken is expected to travel to Beijing for his planned visit in February that was previously suspended.
"We have taken steps to reduce the vulnerability of those activities, and we will continue to do so," Kirby stated. However, both countries hold that the information has been released to harm them.
Kirby also stated that the information about the supposed station would not affect attempts to direct the bilateral relationship. President Joe Biden wants to maintain communication between the two capitals, as Washington fears that without dialogue there could be serious unintended consequences.
The Biden Administration Takes the Information Seriously
Kirby has defended the White House's handling of the episode and said that they have been as open as possible given the delicate nature of the information. "Sadly, not everyone takes it as seriously as we do, and there is a source, or sources, who believe that it is beneficial for this type of information to enter the public domain, when it is absolutely not."
In a parallel press conference, Blinken accused Cuba of being a part of a global effort by Beijing to expand its presence abroad but said that the measures the Americans have taken since Biden's arrival in January 2021 have weakened those efforts.
The relationship between China and the US is tense, with two clashes between patrols from both countries in the Taiwan Strait and the South China Sea in the past two weeks. Despite this, the Biden Administration wants to keep the lines of communication open in the hope of preventing the situation from becoming a crisis.
Stay updated on international news by following us on Facebook and Twitter or signing up for our weekly newsletter.