US inflation slows down, easing pressure on the Federal Reserve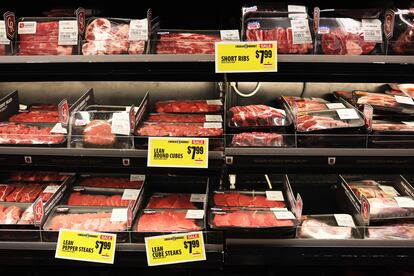 The Federal Reserve gets some good news, as US inflation slows down: the Consumer Price Index (CPI) rose only 0.1% in May month-on-month and 4% over the past 12 months. This is nine tenths less than in April, which reinforces the likelihood that the Fed will keep interest rates unchanged at its latest meeting.
A Lower-than-expected Inflation Rate
Investors had been bracing themselves for a 4.1% YoY rise in the headline CPI starting in May. However, the reading came in at 4%, the slowest inflation since April 2021. In month-on-month terms, they expected a 0.4% hike, but the YoY expectation is significant. These numbers suggest a significant lowering of price increase pressures, which is excellent news for the US economy as it continues its recovery.
Leading Contributors to the Rise
House prices, cars, and used trucks rose the most over the past month. Conversely, the price of energy decreased to 3.6%, while food remained mostly unchanged, rising by only 0.2% in May.
The Fed Faces a Tough Compromise
The Fed has been grappling with the dilemma of how to maintain a strong economy without seeing a sharp rise in inflation. The latest inflation data shows that the Fed's 2% inflation target is still far away. However, compared to last summer's peak, it is relatively stable. The Federal Reserve's latest policy decision, coupled with the inflation data for May, will largely define the investment landscape for the next few days.
Market Optimism Soars
The slight CPI increase is relatively welcome news for Wall Street investors, as the Federal Reserve moves to review its monetary policy. The S&P 500 Index officially entered bullish territory, marking a shift to a more favorable economic environment.
FOMC Expected to Stay the Course
Investors are betting that the Federal Reserve's inflation report will show subdued numbers, providing a hedge for the Fed to keep interest rates unchanged at their June meeting. The latest data on a strong labor market, robust industrial output, and services sectors have cushioned fears of an economic recession, providing the Federal Reserve with more impetus to maintain its current position.
Looking Ahead
There is some data suggesting that white goods and used car prices remain stubbornly high, which leaves scope for higher-than-expected price gains. However, many economists believe that the Fed's tight fiscal policy has already paid off and that the Federal Reserve is unlikely to alter its current course of action.
For now, the Federal Reserve's policies seem to be lending support to the economy as it continues to recover from the shocks of the pandemic.
Follow all the information on Economy and Business on Facebook and Twitter, or subscribe to our weekly newsletter for updates.
Five Days Agenda
The most important economic appointments of the day, with the keys and the context to understand their scope.
RECEIVE IT IN YOUR MAIL