The Ministry of Agriculture and Customs Seize 430 Tons of Frozen Beef
The Ministry of Agriculture and Customs recently made a significant discovery when they seized 430 tons of frozen beef from a company suspected of operating illegally. This seized beef has an estimated value of $2 million. The Ministry, together with Senasa, plans to donate the confiscated beef to Cáritas for distribution to community kitchens that serve vulnerable families. The seized meat is comprised of more than 18,000 boxes, each weighing 25 kilos. In total, it amounts to 2,100,000 individual servings.
Efforts Made by the Agricultural Portfolio and Customs
According to reports, this seizure represents the largest confiscation made by the Ministry of Agriculture, in collaboration with Customs, in their joint effort to crack down on financial speculation and commercial disloyalty. While the company's infractions are primarily of a commercial nature – failure to establish traceability and improper settlement of foreign currency – the meat itself is deemed suitable for consumption from a sanitary perspective.
Aims of the Operation
The Director General of Customs, Guillermo Michel, explained that the main goal of this operation is to discourage exploitative business practices and ensure that the dollars generated from meat production support Argentina's economy rather than being misused for financial speculation. He stressed that it is essential to prioritize the interests of Argentine production and working citizens.
The Modus Operandi of the Alleged Company
The company, accused of falsely representing itself as an exporter capable of supplying meat to China, was found to lack the economic capacity to do so. Furthermore, it failed to settle foreign currency properly, leaving the dollars abroad to take advantage of exchange rate gaps. Ultimately, they sold the dollars at the higher financial dollar value, known as the blue dollar.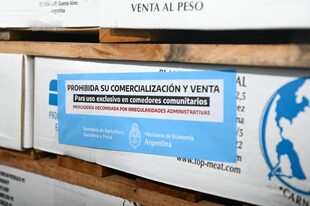 Sanitary Compliance of the Seized Meat
Speaking from the plant in Villa Udaondo, Buenos Aires, the Secretary of Agriculture, Juan José Bahillo, emphasized that while the confiscated merchandise has commercial irregularities, it is completely fit for consumption from a sanitary standpoint.
Striving for Legal Compliance in the Agroindustrial Chain
The Minister also commended the work of Luciano Zarich, the Undersecretary of Agricultural Markets, for ensuring the legality and authenticity of registrations through the Unique Registry of Operators of the Agroindustrial Chain (RUCA).
The Hygienic-Sanitary Verification Process
The veterinary inspection service, authorized by Senasa, has confirmed the hygienic-sanitary state of the confiscated merchandise. The seizure involved multiple government entities, including the Directorate of Agricultural Registration and Registration and the Directorate of Agricultural Commercial Inspection, along with Customs and AFIP, to ensure appropriate handling and investigation.
Continued Investigation into Collaboration with the Alleged Company
Lastly, authorities stressed that further investigation will be conducted into any individuals or entities engaged in trade with the aforementioned company. It is crucial to identify and address any potential collaborators or accomplices.
The Nation
Get to know The Trust Project